Vote for Occhiali Modern Optics as 2014 Best of Big D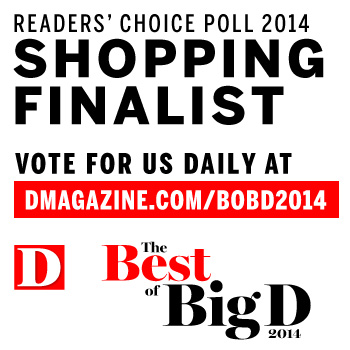 We are to thrilled to announce that Occhiali Modern Optics has been nominated for the 2014 Best of Big D: Readers' Choice shopping poll in the "shopping" category.
Our staff of board-certified opticians works hard to ensure you leave our store with a pair of perfectly fitted, stylish eyeglasses. We were honored to be named the Best Shop for Eyewear in 2013 and hope you'll help us maintain our status as the Best of Big D!
This year's nomination is even more meaningful because in an effort to keep things simple, the editors at D Magazine decided to limit the number of nominees in each category to a maximum of 10.
Nominees were selected in each category based on the strongest performers in last year's Best of Big D survey with a few new picks from the D Magazine editors.
To be named Best of Big D, we need your help! Voting runs this week only, through March 30. You can vote once each day.
Ready to vote? Click here, vote daily and please share this with your friends and families!