Find Fashionable Frames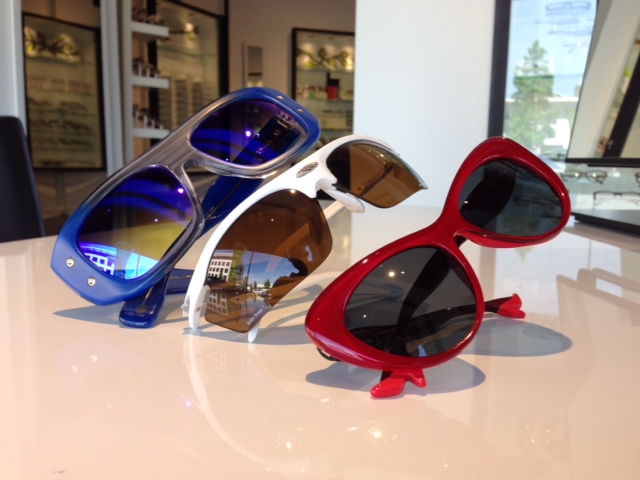 What do your glasses say about you? Do they reflect your personality and lifestyle? Eyeglasses aren't just a necessity, they are a fashion statement, and they should be a reflection of who you are.
So how do you choose the right glasses for your personality and lifestyle? Use this as a guide to choose eyewear that is true to who you are.
Step One: Determine what you want your glasses to say about you.
The glasses you choose are an important part of others' first impression of you. Do you want to come across as youthful, fun loving, sophisticated, conservative, or a serious business person?
Classic shapes (ovals and rectangles) in traditional colors (gold, silver, brown, black, and gray) are ideal if you want to look professional and business like. If you're going for this look, choose plastic, titanium, or stainless frames. Rimless frames also tend to look more professional.
For the creative or edgy look, choose geometric designs in large plastic or modern metal frames with lasered details. Unusual or bright colors add to the creative look. Modern takes on shapes from the 60s and 70s, such as the cat-eye or aviator, will help you pull off the retro vibe.
Students (and the young at heart) should look for large, unusual-shaped frames in vibrant colors with eye-catching detail. Feel free to be creative and expressive.
For an active lifestyle, comfort and safety are priority.  Your ideal eyewear may be designed specifically for sports. The options range from traditional to wrap-around frames in metal or plastic. As for the colors, go for bright — think neon's, reds, yellows, and blues. Be sure to select shatter-resistant polycarbonate lenses and consider lens tints or polarized sunglasses for outdoor sports.
Does more than one of these options describe your lifestyle? Choose more than one style so you'll have the option to wear the pair that best fits your activities and desired look for the day.
Step Two: Choose the shape that best fits your face.
The shape of your face should play a role in choosing a frame shape. Not all frame shapes look great on every face, so choose the shape that most flatters your face.
Oval face — If your face is oval, and your chin slightly narrower than your forehead, look for frames that are square, rectangular, or geometric shapes to add angles to the soft curves of an your face. .
Oblong face — An oblong face is longer than it is wide. Choosing tall frames will help make your face look smaller, while broad frames with a decorative rim ad width. Avoid small or short frames.
Round face — Like an oval face, angular and geometric frames will sharpen the soft features of your face. Rectangular, horizontal frames will make your face appear thinner.
Diamond face — If your face is narrow at the eye line and at the jaw with a small forehead and chin, direct yourself to rimless or cat eye styles, to emphasize your cheekbones, or oval frames to add balance. Avoid narrow frames as they will draw attention to your narrow eye line.
Heart face — A heart-shaped face has a broad forehead and cheekbones that narrow into a small jaw line and chin. Steer clear of top-heavy styles, such as frames with decorative temples, as these will draw attention to the broadest part of your face — your forehead. Instead, choose bottom-heavy frames or narrow, round frames to soften the forehead. Do draw attention away from your forehead, look for a frame with low-set temples.
Square face — To soften the sharp, strong lines of a boxy face, go for oval and round frames and avoid square, rectangle, or geometric frames with strong angles.
Triangle face — A triangle-shaped face is defined by a narrow forehead and eye line with wider cheekbones and chin. If this describes your face, choose frames that will accentuate your upper face, such as rimless or other top-heavy styles, while avoiding bottom-heavy or inward angled frames.
Remember, your eyeglasses are a statement about who you are. They are functional, but they are also an accessory. If you want fashionable frames that best suit your lifestyle, personality, and the shape of your face, what is trendy right now may not be the best frames for you.
Need help choosing a frame that fits your lifestyle and personality? The fashion eyewear experts Occhiali Modern Optics eyewear boutique in Highland Park can help you find the perfect designer eyewear to help you find the best pair of glasses or sunglasses for your lifestyle, person, and face shape.