A Vision for the Future: Cutler and Gross
Founded in 1969 by Graham Cutler and Tony Gross, British luxury eyewear brand Cutler and Gross has been producing iconic sunglasses and eyewear for decades. With frames absent of any ostentatious logo, the brand's distinguishing features lie instead in their fine Italian craftsmanship and streamlined style. Bold acetate frames appear in timeless shapes, transparent tones, or rebellious aviator form whereas metal-frame sunglasses featuring blue, green or purple lenses pay homage to this heritage brand's vintage style while simultaneously representing a vision of the future.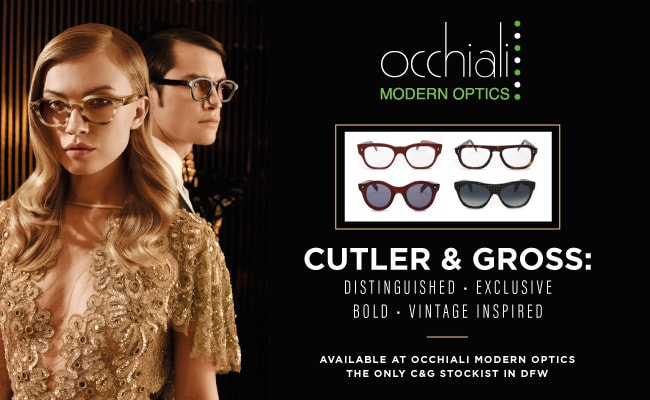 Simply put, Cutler and Gross are a brand that understands the need for the perfect frames. Having initially created frames by hand above the Knightsbridge shop, today Cutler and Gross produce all its glasses in a dedicated facility in Cadore, Italy, where highly skilled craftsmen take pride in preserving and developing the artisanal tradition in eyewear manufacturing. Only the highest quality of Italian acetate, lenses, rivets and accessories are used to make the company's frames. From the milling of the lens groove to the fitting of the hinges, Cutler and Gross's dedication to distinctively original, hand-built frames moved opticals firmly into the luxury fashion sphere—in which Cutler and Gross still lead the fashion pack to this day.
THE SS2018 COLLECTION
This season is packed with stand-out pieces and future classics, from slice-frame precious metals to thicker acetates than ever before. Celebrating a distinct quality and diverse style, the combination of chunky acetates with delicate, precious metals—plus an array of bespoke lenses—ensures that there is a pair of frames for everyone. Each pair of sunglasses and optical frames feature their trademark numbered design, which you can now find at Occhiali—the only stockist in Dallas for this luxurious London-based brand.
CUTLER AND GROSS DALLAS
A Cutler and Gross frame is an enduring statement about You. With their sunglasses by your side, you can craft the image you wish to project and more. Contact us to learn more or visit us today to view the frames you've been looking for all your life. The Cutler and Gross Dallas collection will have you speechless.