Blake Kuwahara: From Doctor to Designer
Blake Kuwahara offers a unique perspective with his eyewear due to his background as an optometrist. Graduating from UC Berkeley School of Optometry in 1986, he spent much of his early career seeing patients in a dark room, before soon realizing he much rather enjoyed being in the front desk area where he could blend his interest of medical science and fashion in the optical boutique.
During this time, by complete serendipity, Kuwahara stumbled upon an ad for a position as a fashion forecaster at LA-based eyewear company, Wilshire Designs. Convinced this was the perfect opportunity to blend his optical background with his interest in fashion, he applied. After interviewing with Wilshire owner Dick Haft, Kuwahara was, to his surprise, offered the position of creative director instead, putting him in charge of all product design.
As Kuwahara began his destined path as eyewear designer under Wilshire and later Rem Eyewear, the burning desire to design his own eyewear collection was imminent. By the 90s Kuwahara received international acclaim as the creator and designer of the exclusive KATA Eyewear brand. To date, he continues to innovate in eyewear and has garnered a multitude of awards for his designs including I.D. Magazines Best of Category in Consumer Products and the Silmo dOr – Prix Special Journalists de Mode.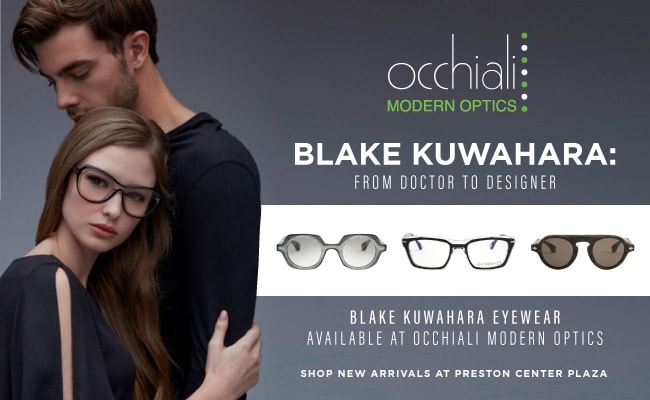 A BOLD VISION FOR EYEWEAR
Launching his eponymous line in 2015, his designs produce eyewear that are as sensibly artistic as they are wearable. Inspired by an antique Chinese elm stool that was encapsulated in a clear lucite block, his groundbreaking frame within a frame design integrates two different aesthetics into one frame. The concept of this collection is taking two different eye shapes and laminating them together. The inside silhouettes are somewhat classical and easy to wear, and the outside silhouettes give the frame its dimension and edge.

SHOP NOW
We are proud to have carried this forward-thinking collection since its inception—with new arrivals coming in NOW! To shop our extensive collection at Occhiali Modern Optics and try them on in person with expert assistance, visit us at the Plaza at Preston Center! For questions, contact us at (214) 368-2777.